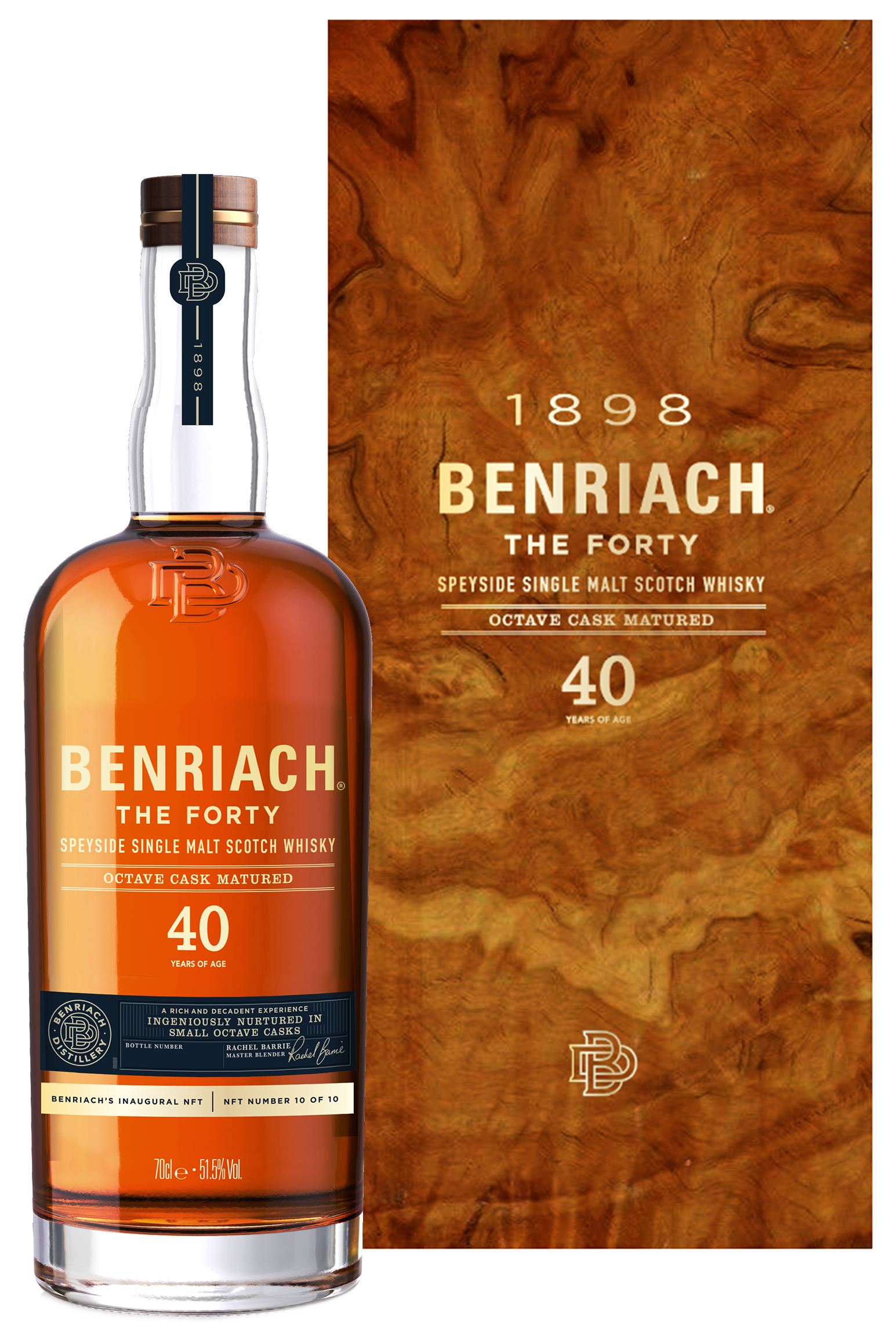 BENRIACH
The Forty Octave Cask Matured
Speyside Single Malt Scotch Whisky
Over the years, we have laid down one of the most diverse cask collections in Scotland. A considered and creative approach is taken with the malt in each precious cask. The whisky is closely watched and regularly tasted as it develops, with our Master Blender choosing the course of its maturation to ensure it reaches its potential. A process that takes considerable skill, artistry, and time.
With this commitment to excellence, Benriach spirit was laid down on 14th October 1976 and was moved into three octave casks on 16th June 2011 for a final maturation. Octave casks are an eighth the size of a butt, and these three were crafted from the staves of refill and first fill American oak bourbon casks. With such a small size cask, the 'angel's share' of whisky is higher, as if maturation is happening at a faster rate.
This Benriach single malt whisky was bottled on 12th September 2017, and so preserved at the peak of its maturation.
The Forty Octave Cask Matured is now presented as an exceptionally rare, limited release. It is the finest example of Benriach aged with creative consideration, showcasing a sublime interplay of indulgent orchard and dark fruits, and a flawless silken oak finish. It is a fine testament to our cask expertise and history of creativity.
NATURAL CASK-IMPARTED COLOUR     ABV 51.5%    
Tasting Notes
COLOUR
Deep red mahogany
NOSE
Sweet plum, cherry, and honey-glazed red apple interweave with aromatic sandalwood, ripe fig, and sultana.
TASTE
A decadent interplay of ripe plum and pear, interwoven with dark berries, cedarwood, and silken oak, leaving cocoa and blackberry in a flawless finish.
RACHEL BARRIE
MASTER BLENDER
"Benriach The Forty Octave Cask Matured is a unique whisky. The considered use of wood over its maturation has allowed for Benriach's character to be nurtured, with those intense and luscious signature fruit notes shining throughout. It is a complete sensory experience, I am delighted to be able to present it."